At the end of the day after so many activities, resting is very necesary. To take a good rest in a cozy and comfortable bedroom furniture will improve the quality of our rest. In this case, the choice of bedroom furniture will be very important. It helps creating suitable atmostphere for the perfect rest.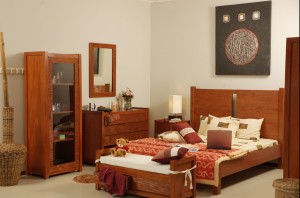 The setting of bedroom furniture sometimes were missed from our attention. We put many things in our bedroom. As a result, it feels so crowded and messy. In turn this will disrubt the suaitable atmosphere for a good rest.
First to be done is selecting the bedroom furniture. Before doing that, look at the room and choose the bedroom furniture proporsionally to the available space.
Classic look will be created by choosing bed with four posters, carved stool and chest of drawers. Medern style will be created by choosing more simple furniture without carvings. For this modern style, you can choose the following collection; Cross Line Bedroom, Double S Bedroom, Triple Line Bedroom, Merbabu Bedroom, Muria Bedroom, Bromo Bedroom, Merapi Bedroom, Raung Bedroom, Rinjani Bedroom and Krakatau Bedroom.
Bedroom furniture are not only bed and its bedsides. There are more including bed, bedside tables, chest of drawers, mirror, wardrobe, stools, and sofa. The composition should be suitable with the need and space of the bedroom.
Comfortability of the bedroom furniture depends on the persons who use it. However all should be integrated.
Aryasena gives many choices of bedroom furniture designs if you find any difficulty looking for options. You could also modify from our designs, or you could make your own design based on your own ideas or based on photos in some magazine. This way you could create your own character based on your own taste.